Customized Monthly Accounting for Community Associations
At CondoBooks, we provide innovative, cutting edge technological accounting solutions for condominiums, cooperatives, townhomes, homeowner associations, and various other real estate entities. We provide complete accounting solutions including: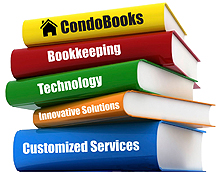 Monthly assessment invoicing

Check writing

Monthly financial statements and accounts receivable reporting

Automatic checking account deductions

State-of-the-art bank lock box interface

Credit card payment of assessments

Customized selection of other communication and organizational services

Association web sites integrated with our accounting software
Association Web Site Integration
Our association web site integration is innovative and offers many benefits. Board members can view or print monthly financial statements and other important reports. Unit owners can download condo declarations and rules. In addition,unit owners receive login IDs and passwords to provide them access to a secure website where they can view their payment history, balances owed, etc. Email notification when payment is received is also an option.
Technological Advances Provide Accounting Advantages
Technological advances provide quicker and easier access to important association information. More efficient systems bring lower or stable fees. Our services provide community associations with a stable accounting department (no more accounting turnover worries), accounting solutions at a reasonable price, and customized reports.

Our use of technology permits us to offer many additional services including emergency messaging, emailing of monthly statements, 24 hour/day account access, and more.
For More Information
Through technological developments, our accounting solutions are not limited by geographical locations. Wherever you are located within the United States, contact us for a free quote or more information on how we can help you. For a free quote email us at [email protected] or complete a request for proposal.